F-2A、又稱「毒蛇零」、是日本版的F-16C。由日本三菱重工和美國洛歇·馬丁公司合作共同研製生產。F-2A的主翼和尾翼相比於F-16C的闊。複合材料減輕重量和減少雷達探測值域。
Strangereal
编辑
Developed from the original Fighting Falcon, the F-2A was created in the Strangereal world in the late 20th century in a collaborative project between several undetermined countries as a swing-role support fighter aircraft designed to attack ground targets and hostile warships. Despite its operational focus, it retained the ability to engage in aerial combat at will and carry anti-aircraft weaponry.[1]
Real world
编辑
A joint collaboration between Lockheed Martin and Mitsubishi, the origins of the F-2A trace back to a plan of the Japanese government from the 1980s to produce a secondary fighter to replace the aging F-1 trainer aircraft and supplement its other main fighters, the F-4EJ and the F-15J, using the F-16 as a basis.
In the Infinity timeline, the design of the F-2A was acquired by Wernher and Noah Enterprises.
空戰奇兵 無限
编辑
"A support attacker used by the Japan Self-Defense Air Force. Fitted with the latest electronic systems at the time it was built, it was the first aircraft in the world to use carbon fiber composite single mold technology. Giving consideration to the island nature of Japan, it is especially focused on anti-vessel combat capabilities. Developed in collaboration between Japan and the US, it is also called the "Viper Zero"."
― Hangar
Template:InfinityStatsAircraft
Skins
Default: 日本航空自衛隊風格的洋上迷彩
Event Skin #01: 米綠雙色迷彩,基於航空自衛隊F-1戰鬥機的迷彩
Event Skin #02: 白色機身,藍色背脊,及各種機翼尾段配上橙色,基於日本航空自衛隊飛行開發實驗團F-2A的502號機(原XF-2A試作2號機)
Event Skin #03: 灰色迷彩
圖片
空戰奇兵 突擊地平線 遺產
编辑
解鎖方式
完成第9關Acid Rain,並要有A或以上的評級。需要有40,100credits去購入。
統計

武器
顏色
C01: 日本航空自衛隊風格的洋上迷彩
C02: 綠色迷彩
C03: 灰色機身
C04: 棕色迷彩,Color 2的顏色變異
C05: 綠藍色迷彩迷彩,Color 1的顏色變異
C06: 粉紅色迷彩,Color 2的顏色變異
圖片
空戰奇兵_突擊地平線
编辑
"A battle support attack aircraft deployed by the Japan Air Self-Defense Force. It emulates the F-16C in airframe shape, but it is equipped with the latest electronic equipment while having the same easy handling and a complete upgrade of maneuvering performance. In order to be prepared for threats from the sea, its anti-warship battle ability is given special consideration. The airframe was remodeled and developed jointly by Japan and the United States, and it is also called the "Viper Zero"."
― Hangar description
解鎖方式
F-15C在Hostile Fleet任務開始之前自動解禁
統計
Speed: Medium-High
Mobility: Medium
Stability: Medium
Fire Power: Medium-High
Defense: Medium
武器
Skins
Color 1: 日本航空自衛隊風格的洋上迷彩
Color 2: 米綠雙色迷彩,基於航空自衛隊F-1戰鬥機的迷彩
Color 3: 白色機身,藍色背脊,及各種機翼尾段配上橙色,基於日本航空自衛隊飛行開發實驗團F-2A的502號機(原XF-2A試作2號機)
Color 4 (NAGASE)
圖片
空戰奇兵X2 聯合攻擊
编辑
DESCRIPTION

While this aircraft's design is optimized for air-to-ground and air-to-ship combat, the F-2A is also an effective air superiority fighter.
解鎖方式
完成第5B關Capital Defense或第10關Spotlight - Bravo。需要有$41,500去購入。
統計
Speed: Medium-High
Air-to-Air: Medium
Air-to-Ground: High
Mobility: Medium
Stability: Medium
Defense: Medium
武器
顏色
C01: 日本航空自衛隊風格的洋上迷彩
C02: 綠色迷彩
C03: 淺藍色迷彩
C04: 淺藍和深藍機身,兩色之間有白條紋分界,基於空戰奇兵5的Cypher機色
C05: 白色機身,機翼部分及機首配上紅色,基於日本航空自衛隊飛行開發實驗團F-2A的501號機(原XF-2A試作1號機)
C06: 黑色機身,並有大型灰色「魂」字印刻在機身上
圖片
空戰奇兵Xi 詭影入侵
编辑
空戰奇兵6:解放的戰火
编辑
"Known as the "Viper Zero", the F2-A is a variant of the F-16. It is equipped with the latest avionic equipment, including phased-array radar. Although specifically designed for anti-ship operations, this powerful aircraft is also deployed in air-superiority and intercept missions. The F-2A is known for its responsiveness and stability - so much so that engine stall related accidents are extremely rare. Its high-performance armaments include that of high-maneuver and long-range missiles. While successfully fulfilling its conceived role of air-to-ground and air-to-ship intercept, the F-2A is also a formidable air-to-air multirole aircraft."
― Hangar description
解鎖方式
完成第6關Siege on Silvat。需要有81,000credits去購入。
統計
Speed: Medium
Air-to-Air: Medium
Air-to-Ground: Superior
Stability: High
Defense: Medium
Mobility: Medium-Low
武器
Skins
Emmeria: 日本航空自衛隊風格的洋上迷彩
Estovakia: 灰色迷彩
Estovakia SP: 白色機身,藍色背脊,及各種機翼尾段配上橙色,基於日本航空自衛隊飛行開發實驗團F-2A的502號機(原XF-2A試作2號機)
Named Pilots
圖片
空戰奇兵X 詭影蒼穹
编辑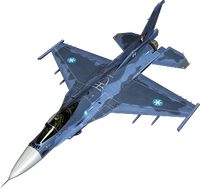 "While this aircraft's design is optimized for air-to-ground and air-to-ship combat, the F-2A is also an effective air superiority fighter."
― Hangar description
解鎖方式
完成第9B關A Diversion。需要有28,900credits去購入。
統計

武器
Skins
Aurelia: 日本航空自衛隊風格的洋上迷彩
Leasath: 綠色迷彩
Special 1: 淺藍色迷彩
Special 2 淺藍和深藍機身,兩色之間有白條紋分界,基於空戰奇兵5的Cypher機色
Named Pilots
圖片
空戰奇兵Zero 貝爾卡戰爭
编辑
"An F-16 variant developed through an international collaboration. While its design is optimized for air-to-ground and air-to-ship combat, the F-2A is also an effective air superiority fighter."
― Hangar description
解鎖方式
完成第8C關Merlon: Alpha Team。需要有95,000credits去購入。
統計
Speed: 63
Mobility: 55
Stability: 70
Defense: 62
Air-to-Air: 40
Air-to-Ground: 85
武器
Skins
Standard: 日本航空自衛隊風格的洋上迷彩
Mercenary: 淺藍和深藍機身,兩色之間有白條紋分界,基於空戰奇兵5的Cypher機色
Soldier: 綠色迷彩
Knight: 米綠雙色迷彩,基於航空自衛隊F-1戰鬥機的迷彩
Special: 白色機身,機翼部分及機首配上紅色,基於日本航空自衛隊飛行開發實驗團F-2A的501號機(原XF-2A試作1號機)
Named Pilots
圖片
空戰奇兵5 不被歌頌的戰爭
编辑
"An F-16 variant developed through an international collaboration. While its design is optimized for air-to-ground and air-to-ship combat, the F-2A is also an effective air superiority fighter."
― Hangar description
解鎖方式
F-16C戰隼戰鬥機的Kill Rate Gauge升滿後F-2A就會解禁並可購買。每架機值Ƶ19,500。
統計
Speed: 63
Mobility: 44
Stability: 70
Defense: 57
Air-to-Air: 40
Air-to-Ground: 85
武器
Skins
OS: 日本航空自衛隊風格的洋上迷彩
RZ: 黑色機身
SP: 淺藍和深藍機身,兩色之間有白條紋分界
Named Pilots
圖片
空戰奇兵04 破碎的天空
编辑
"A great support fighter, this F-16 boasts advanced avionics and an alloy body."
― Hangar description
解鎖方式
完成第12關Stonehenge Offensive。需要有505,000credits去購入。
統計
Speed: Medium-High
Air-to-Air: Medium-High
Air-to-Ground: High
Mobility: High
Stability: Medium
Defense: Medium-High
武器
Skins
Standard: 日本航空自衛隊風格的洋上迷彩
Erusea: 綠色迷彩
Special: 白色機身,機翼部分及機首配上紅色,基於日本航空自衛隊飛行開發實驗團F-2A的501號機(原XF-2A試作1號機)。需要有657,000credits去購入。
Named Pilots
Urata (Stonehenge Offensive)
圖片
空戰奇兵2
编辑
機體在此遊戲中名為JF-2A
解鎖方式
JF-2A在此遊戲是非玩家控制的戰鬥機
顏色
Enemy Type A: 藍色機身及黑色機首
Enemy Type B: 白色機身,機翼部分及機首配上紅色,基於日本航空自衛隊飛行開發實驗團F-2A的501號機(原XF-2A試作1號機)
F-2戰鬥機是以F-16為基礎被研製,故此兩機外貌相似,但也有方法分出來:F-16的座艙罩前方無框,而F-2的座艙罩前方有框架。F-2的機身和機翼也比F-16長。