疾風(Rafale)M型是法國達梭航太公司開發生產疾風多用途戰鬥機的航空母艦用單雙座型。
Strangereal
编辑
In the Strangereal universe, the Rafale M was conceived by an unspecified nation as an "omnirole" carrier-based aircraft capable of dealing with both air combat and surface strike situations. Its triple-surface and delta wing configuration, reminiscent of the Typhoon, endowed it with high maneuverability and weapons payload, as well as a highly identifiable body profile.
Joint Assault universe编辑
Assault Horizonuniverse编辑
Infinity universe编辑
空戰奇兵7 未知的天空
编辑
解鎖方式
目前尚未確定本機體在遊戲中是否能讓玩家使用。
圖片
空戰奇兵 無限
编辑
"This high performance, omnirole, carrier-based aircraft is the pride of the French Navy. Possessing high level of acceleration and turning performance, and equipped with the large quantity of arms including air-to-air missiles and long-range dispenser weapons, this aircraft plays a large role in any kind of air-to-ground or air-to-air mission. Called by the name Rafale (squall), its elegant delta and canard wings and superb aerodynamically shaped air-intake, are distinguishing characteristics."
― Hangar
解鎖方式
Reach First Lieutenant, complete all of the research, then purchase from Aircraft Tree.
Template:InfinityStatsAircraft
顏色
Default: 灰色機身
"Espada" Skin: Espada 2機色,深灰色機身,紅色垂直尾翼,主翼尾段配上紅色和黃色
Event Skin #01: 灰色迷彩,基於法國空軍的疾風B戰鬥機
圖片
空戰奇兵 突擊地平線 遺產
编辑
解鎖方式
完成第12關Seagull。需要有59,200credits去購入。
統計

武器
Named Pilots
Rosepink - 在Seagull登場。和Cocoon隊的第一次遭遇同時出現
顏色
C01: 灰色機身
C02: 灰色迷彩,基於法國空軍的疾風B戰鬥機
C03: 空戰奇兵X2的Hayate機色,黑色機身,並有大型灰色「疾風」字印刻在機身上
C04: C02的顏色變異
C05: C03的顏色變異
C06: C02的顏色變異
圖片
空戰奇兵_突擊地平線
编辑
"This high performance, omnirole, carrier-based aircraft is the pride of the French Navy. Possessing high level acceleration and turning performance, and equipped with a large quantity of arms including multi lock-on, air-to-air missiles, and long-range dispenser weapons, this craft plays a large role in any kind of air-to-ground or air-to-air mission. Called by the name "Rafale (squall)," its elegant delta and canard wings, and superb aerodynamically shaped air-intake, are distinguishing characteristics."
― Hangar
解鎖方式
疾風M在Pipeline任務開始之前自動解禁
統計
Speed: High
Mobility: High
Stability: Medium-High
Fire Power: High
Defense: Medium-High
武器
顏色
Color 1: 灰色機身
Color 2: 灰色迷彩,基於法國空軍的疾風B戰鬥機
Color 3: 白色機身,配上紅色和藍色條紋,基於機體編號F-ZWRE的疾風A試作機
Color 4: Tiger Pattern (DLC)
圖片
空戰奇兵X2 聯合攻擊
编辑
"The very first omnirole Navy aircraft characterized by stealth and twin engined delta-wing."
― Hangar
解鎖方式
完成第12A關Nightwatch (12A)。需要有$74,000去購入。
統計
Speed: High
Air-to-Air: Medium
Air-to-Ground: Superior
Mobility: Medium-High
Stability: Medium
Defense: Medium
武器
顏色
C01: 灰色機身
C02: 灰色迷彩,基於法國空軍的疾風B戰鬥機
C03: 綠色迷彩
C04: 黑色機身,配上紅色和藍色條紋
C05: 黑色機身,並有大型灰色「疾風」字印刻在機身上
C06: Espada 2機色,深灰色機身,紅色垂直尾翼,主翼尾段配上紅色和黃色
Named Pilots
圖片
空戰奇兵6:解放的戰火
编辑
"A carrier-based aircraft known as "Squall", Distinguishing characteristics include a flowing delta wing and canard design, and an aerodynamically conformed air intake. Its ergonomically designed cockpit has earned it high regard among pilots. The Rafale M offers quick response control thanks to a compact turning radius and agile maneuverability. Its large wing surface provides extra storage space for high performance missiles and dispenser munitions. This multirole aircraft is well suited for prolonged scale missions."
― Hangar
解鎖方式
完成第9關Heavy Command Cruiser。需要有90,000credits去購入。
統計
Speed: Maximum
Air-to-Air: Maximum
Air-to-Ground: Medium
Stability: Superior
Defense: Above Average
Mobility: Superior
武器
顏色
Named pilots
圖片
空戰奇兵X 詭影蒼穹
编辑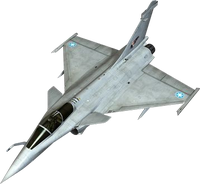 "The very first omnirole Navy aircraft characterized by stealth and twin engined delta-wing."
― Hangar
解鎖方式
完成第10A關Joint Operation。需要有35,100credits去購入。
統計

武器
Skins
Aurelia: 灰色機身
Leasath: 灰色迷彩,基於法國空軍的疾風B戰鬥機
Special 1: 綠色迷彩
Special 2: 黑色機身,配上紅色和藍色條紋
Named Pilots
Tyrant - 在Wild Card登場。友方抵抗軍沒受過傷害的話敵機會在任務更新後出現
圖片
空戰奇兵Zero 貝爾卡戰爭
编辑
"A multirole, carrier-based aircraft characterized by its delta wing and canards. A well-balanced plane that can handle a wide range of missions. Its name roughly translates as "Squall"."
― Hangar
解鎖方式
完成第14關The Talon of Ruin。需要有Ƶ103,500去購入。
統計
Speed: 76
Mobility: 84
Stability: 73
Defense: 69
Air-to-Air: 60
Air-to-Ground: 84
武器
Named Pilots
顏色
Standard: 黑色機身
Mercenary: 灰色機身
Soldier: 灰色迷彩,基於法國空軍的疾風B戰鬥機
Knight: 白色機身,配上紅色和藍色條紋,基於機體編號F-ZWRE的疾風A試作機
Special: Espada 2機色,深灰色機身,紅色垂直尾翼,主翼尾段配上紅色和黃色
圖片
空戰奇兵5 不被歌頌的戰爭
编辑
"A multirole, carrier-based aircraft characterized by its delta wing and canards. A well-balanced plane that can handle a wide range of missions. Its name loosely translates to "Squall"."
― Hangar
解鎖方式
完成第16B關Desert Lightning。每架機值Ƶ21,200。
統計
Speed: 71
Mobility: 79
Stability: 68
Defense: 63
Air-to-Air: 50
Air-to-Ground: 84
武器
顏色
Osea: 灰色機身
Razgriz: 黑色機身
Yuktobania: 灰色迷彩,基於法國空軍的疾風B戰鬥機
圖片
空戰奇兵04 破碎的天空
编辑
In this game, the Rafale M is known as the R-M01
"Delta-wing carrier-based fighter with a large payload. Leading edge canards make it highly maneuverable."
― Hangar
解鎖方式
完成第10關Tango Line。需要有370,000 credits去購入。
統計
Speed: Medium-High
Air-to-Air: Medium-High
Air-to-Ground: Medium
Mobility: Medium-High
Stability: Medium
Defense: High
武器
顏色
Standard: 黑色機身
Enemy: 灰色迷彩,基於法國空軍的疾風B戰鬥機
Special: 白色機身,配上紅色和藍色條紋,基於機體編號F-ZWRE的疾風A試作機。需要有481,000credits去購入。
Named Pilots
圖片
空戰奇兵2
编辑
機體在此遊戲中名為R-M01
解鎖方式
在Normal模式完成第10關Toy Box。需要有$135,000去購入。
統計
Power: High
Defense: Medium-Low
Mobility: Medium
Stability: Medium
Climbing Ability: Medium-High
Air to Air Combat: Medium
Ground Attack: Medium
顏色
Ally: 米色機身及深橙色背脊,配上橙色條紋
FRND: 淺藍色機身及深藍色背脊,配上條紋
ENEMY TYPE A: 黑色機身
ENEMY TYPE B: 綠色迷彩
HANGMEN: 密集深綠色迷彩,機翼配上徵章圖案
Named Pilots
圖片
不少空戰奇兵遊戲的法國版,例如空戰奇兵5、空戰奇兵ZERO、空戰奇兵X、及空戰奇兵6,改了疾風M為該遊戲的封面機。